Why is Pinsa so good
Over time the Pinsa flour has been studied and improved thanks to the passion and experience of Di Marco company, always the best in making flours and doughs.
You must know already that:
The term Pinsa comes from the latin word pinsere (stretch, spread out). the dough ball is, in fact, streched and spread out. this explains why it has an oval shape. in old times, it was made by the romans.
This is why the full name is Pinsa Romana.
THE PRODUCT 
The Pinsa product has an incredible potential. The flour mix has already been targeted as excellent, therefore, it would be difficult to find a valid competitor.
This success is the outcome of the study of three different flours mixed together:
In conclusion, this mix will be also used for dried mother dough, which contributes to make the aroma appetising and the rising process correct.
Many experts have carried out studies to optimise these amazing mixtures including Pizza maker partners and Pinsa Romana consultants. If on the one hand, their job as trainers for young pinsaioli and new pinserie owners is fundamental. On the other hand, they bring more passion to the ongoing researches taking place at Di Marco food-producing factories near Rome (Guidonia Montecelio).
The main Pinsa pioneers are Corrado Di Marco (inventor) and his son Alberto di Marco.
Demonstrations and representations that show the spectacularity of this product are carried out by two extraordinary representatives: Marco Montuori and Maurizio Capodicasa, first ranked in this sector.
More and more pinseria restaurants are opening and they start to be easy to locate: this is absolutely an excellent outcome for both the restaurant owners and clients/consumers.
This "alternative" to the classic pizza is really appreciated…by everyone!
PINSA: TECHNIQUE AND TOOLS
Let's get straight to the point: Why pinsa is so good?
I will answer to this question with both a technical and a more simplified explanation.
From the technical point of view, pinsa is a product optimised in every aspect: each detail is studied and proved by biotechnologists; and, the dough development processes include data and information that need to be closely monitored.
We start with temperatures and humidity (regarding ingredients and environment) to then focus on timing and methods of kneading.
The dough temperatures are fundamental to achieve the cold technique, which a correct rising and maturation process depend on.
OK, to sum up:
When I speak about temperatures, I mean water temperature (it has to be always cooled), flour temperature, dough temperature before adding salt and dough temperature at the end.
In a similar way, humidity needs to be taken into account as it may influence the success of a perfect dough.
The cold technique is important to make the dough rise more slowly (from 20 to 120 hours) and as long as possible in order obtain the right maturation (48 hours is ok). This is fundamental for the success of a noteworthy product.
It follows that special attention is given to temperatures: getting them wrong means not using the cold technique correctly.
The kneading timing is linked to the temperature as the more you knead the more the "mixture" gets warm. For this reason, you have to be careful to monitor the situation.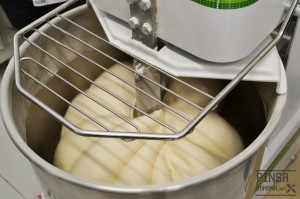 Many people say, believe it or not: "anybody can make a dough" or "anybody can make pizza", which could be true, if no attention was paid to the final outcome. However, we all know that the result is very important for both homemade pizza maker and restaurant owner.
There is a number of criteria that needs to be respected in order to achieve the best result: dough softness (80-85% of hydration), aroma and digestibility of the final product.
Also: a good pinsa has to be crunchy on the outside and soft on the inside, a mix almost impossible to make in any other pizza. I strongly suggest, therefore, to take into consideration the great number of details to make pizza.
Also, the dough is made thanks to the two-speed kneading machine that lets the gluten shield to be well stretched and obtains very high hydration mixtures. The rising rooms or "stoves" are also important but not essential. They favour a more easy and quick control of the dough balls finished product before eating them.
Regarding Pinse's cooking process, there are ovens conceived to guarantee the best performance.
This job is carried out by Rinaldi Superforni that is a company specialised in this field.
The object in question is an electric oven with all the latest technologies, a nice present for a "Pinsaiolo"!
I say that all the attention given to both flour production and dough making process will pave the way for a light final product. In other words, it will have low fat and calories but at the same time it's possible to taste risen doughs, which are difficult to imitate.
The air bubbles holes' feature contributes to make this incredible product even more unique. You will see perfect rising bubbles inside your Pinsa.
ROLL OUT DUSTING
Pinsa is a stand out product with several distinctive characteristics as for example the roll out dusting basic method to stretch/smooth the dough balls.
Two different types of flours are used in this process:
durum wheat semolina
rice flour
Durum wheat semolina has been used for a long time. This flour is grounded several times and studied specially to make a crispier Pinsa.
The heat-treated rice flour is another recent discovery by Di Marco's team: this product temperatures are high enough to change the rice flour features, improving the rolling out dough performance.
The rice flour transition from low to high temperatures excludes the formation of any possible mould.
It follows that the conservation of pre-cooked pinse remains very good lasting brilliantly for 2-3 days.
During the rolling out dusting process, durum wheat semolina becomes more smoothly.
THE HANDCRAFT BASES PINSA
As you may have understood Di Marco's family drives innovation and inventiveness; saying that I will tell you their latest idea:
They want to make a set of dough balls or precooked pinse and freeze them with by blast chilling to obtain a product that is no way inferior to the one traditionally prepared!
You may well have been surprised thinking that even the best quality pre-cooked pizza can never be as good as a decent pizza in a pizzeria.
However, I can prove the opposite saying that all our set goals have been achieved. During the several open days taking place at Di Marco's factory, the "Pinsaioli" invite people at the event to try precooked and cooked pinse; and try to guess which one they are eating… it's difficult as almost no one can!
Now, you understand the potential of this revolutionary idea that lets countries with a different culinary tradition than ours to make very good products.
The outside pizzaiolo will only have to season and bake his/her pizzas reducing the chances to make mistakes by 90% and half the working times (no dough mixtures, no dough balls).
The rising times are optimised as the product delivered to the restaurant has already gone through the rising process. This method is a godsend especially for restaurant owners, who want to open their business abroad with no knowledge in this field.
It is an excellent way to expand the boundaries of pinsa and Italian culinary tradition.
THE FLOUR'S SECRET'S
Many people may know this already but I want to explain it (or explain again) for our new website vistors:
The Pinsa flour recipe is a industrial secret:
Earlier, we explained the main ingredients of this special mixture but we did not go through the specific quantities or still the relation between them: these proportions have never been revealed and they remain an exclusive of Di Marco's family, who put their heart and soul into this field research and study to obtain today's results.
Di Marco's flours are necessarily used to make Pinsa that is a registered trade mark product and GMO FREE. This product is not made, in fact, with genetically modified organisms.
TO CONCLUDE…
-This food is definitely up with the times, authentic and easy to digest with its unforgettable full flavour that should never fail.
-People's feedback on pinserie food quality are verifiable on TripAdvisor and Foursquare's reviews. The majority of people are enthusiastic about this new product from all points of views. We confirm this by noting a greater interest towards this subject, not only people look for more detailed information but they are also intrigued by the product's story.
-Cooking and pizza forums (e.g. confraternita e pizza.it) mention this pleasant news more and more (developed only in 2001).
-Now, Pinsa restaurants are all over the world and such trend will surely keep growing.
Pinsa is, therefore, light, digestible, fragrant, lipid-lowering and low calories product with NO GMO. Moreover, it is very good and delicate on the palate, great for the combination between the chef's cuisine and gourmet recipes.
If you have never heard of or tried Pinsa, now you know everything about it and all you need to do is: TO TASTE IT!
Written by Luca Bucciarelli
What do you think? Write your opinion
Comments with FB